Bok Barometer
March 26, 2013 in Rugby, Springboks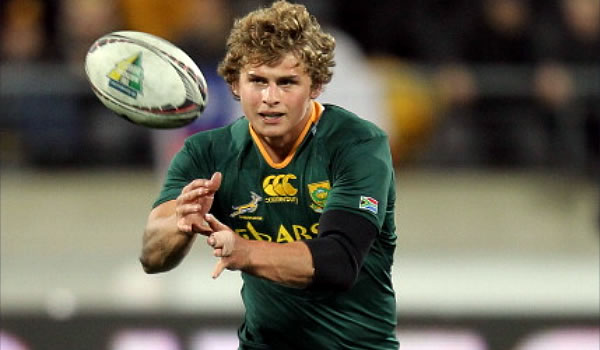 All the SA Teams have now had a start in the Super Rugby Competition and there can really not be many excuses regarding rustiness and lack of fitness. A few players have put their hands up for Bok contention, some taking their chances while other would be contenders are still injured.
Based on performances so far this season, this would be my Bok side if I had to pick today.
1. Beast. Still solid in the scrum, and surprisingly scored only his first try in Super Rugby this past weekend. Not many other contenders for loosehead at the moment, and I would even bracket Gurthro Steenkamp in there. Any idea where JC Janse van Rensburg is? Coenie also deserves a mention, but he is more utilised as a tighthead nowadays, making it a bit difficult to pick him.
2. Adriaan Strauss. Yes, every Stormer loves Deon Fourie, but when it comes to scrumming, lineout throws and clearing the ruck, only Strauss' name comes up right now.
3. Jannie du Plessis.  THe doc is really the only tighthead worth his salt in the SA setup, and this is an area of real concern for the Bok selectors. Very little depth in this department.
4. Steven Sykes. A hard working lock and solid on the field. Etzebeth is set to return soon though to reclaim his spot.
5. Bekker. No question.
6. Brussouw.  Almost back to his best and sure to kill the ball carrier with every tackle. Kolisi can also be mentioned here.
7. Lappies Labuschagne. Impressed me in every game so far. Great defense and great carrier of the ball. Arno Botha has also impressed me.
8. Duanne Vermeulen. Solid, a workhorse, defends like a demon and carries the ball brilliantly. Kankowski also plays brilliantly and Phillip van der Walt also deserves a mention.
9. Jano Vermaak. Tough decision with so little to choose from. No one really impressed but Nic Groom has provided some good ball for the Stormers backs too.
10. Patrick Lambie. Being consistent with his performances and settling in nicely into the flyhalf role. Morne Steyn to be back up with Goosen injured.
11. Habana is injured, and not many options here. Mvovo will be my shoe in.
12. Jean de Villiers.  Really his best position as seen again at the weekend. Frans Steyn has just not been firing so far at 12, while Robert Ebersohn as also been impressive.
13. Paul Jordaan. Excellent pace and in a position where there is little to choose from, he is the one eyed man in the kingdom of the blind.
14. Aplon. Has been performing brilliantly at the Stormers and showed again on the weekend why he is so feared by New Zealand sides. Sergeal Peterson has been impressive too.
15. Frans Steyn.  I might be mistaken but I am almost sure he came on as Full Back on the weekend and did looked much better. Consider however that they played a Rebels side that was falling apart. Joe Peterson has done well at the Stormers while Zane Kirchner should also be regarded.
Now I know I will be taken apart for several of these choices. At loose forward there is a host of players who can be picked. Marcell Coetzee, Arno Botha, Kolisi, Jacques Botes, Deysel, Keegan Daniel and Spies could all be considered, but those are my choices. We are thin in certain areas like tighthead, scrumhalf and centre, and hopefully some injured players will return soon and others will return to form soon.
What does your Bok Barometer look like?